Bilen er satt ut for salg, og covid vaksiner er tatt. De siste forberedelsene er nå unnagjort og vi setter fart fra Fredrikstad den 23 juni. Målet er nå Oslo, hvor en ny kalesje venter. Men først:
English:
The car is now out for sale, covid vaksine is now ok. Last minute preparations has been done, and we are soon to set of from Fredrikstad. Our next destination is Oslo, but first:
Larkollen: Det er vårt første stopp, og det er også her vi kjører Tran for første gang. Hun virker faktisk mindre enn hun så ut i butikken, hmm… Men stor nok for oss. Nå er det Merkurien som skal kjøres inn. det kan jo ta sin tid.
English:
Larkollen is our first stop. It is here we are taking out our dingy for the first time. She seems smaller than she did in the shop, but big enough for our use. Now her engine needs 10 hours use before full speed can take place. So this will take some time…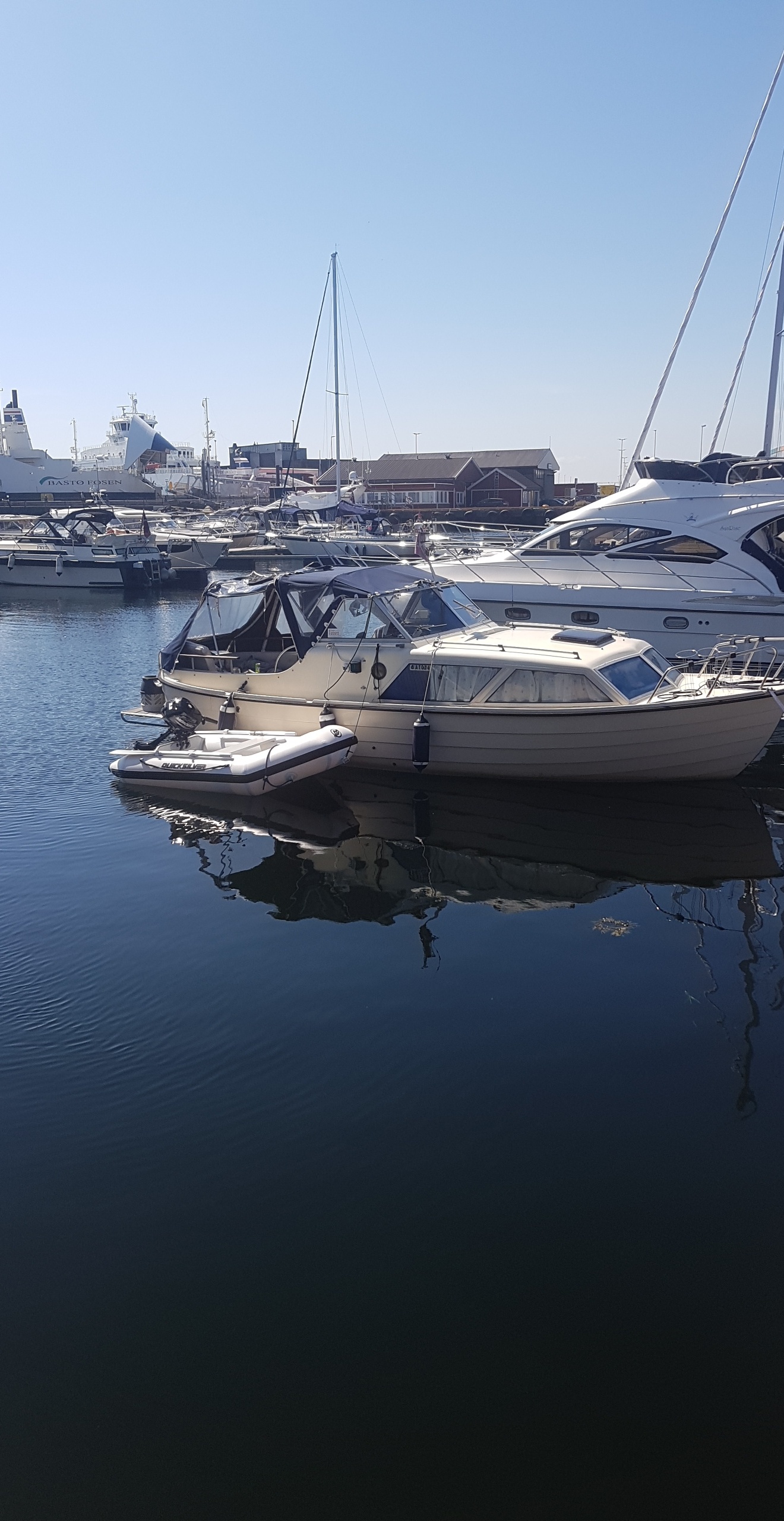 Etter et par dager reiser vi videre over fjorden til Horten. En av de finere gjestehavner Oslofjoren har å by på. Her møter vi på koselige venner. Vi får beskjed om at bilen er solgt. Jippi!
Neste stopp er Sandspollen, som er en nydelig utehavn ved Hurumlandet med mye båtfolk på fine dager. Denne havnen har fine sandstrender og godt feste for å ligge på paraply midt i bukten.
Så drar vi videre til H-øya. Vi besøkte Dragsund og Klausundet. 2 nydelige utehavner.
English:
After a couple of days, we are going to Horten. One of the finest guest harbors in Oslofjorden. We meet som friends here, and got the message that the car was sold. Yey! We then visited 3 beautiful places in the inner Oslofjord archipelago: Sandspollen, Dragsund and Klausundet.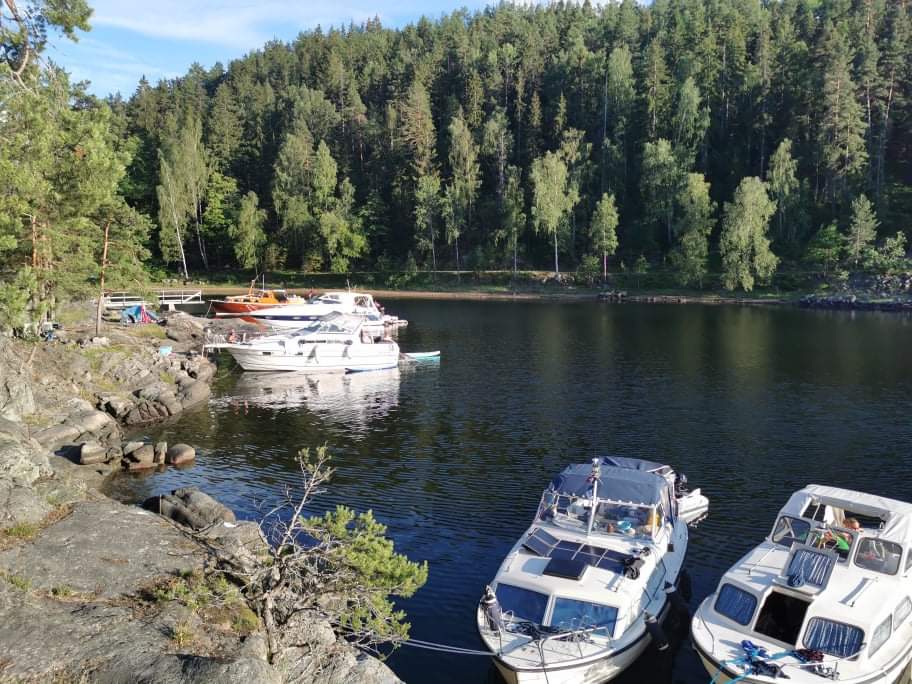 Oslo er neste stopp, og her ble vi et par uker. AkerBrygge gjestehavn er en av mine favoritter. God service og fin brygge. Kalesjen vi hadde bestilt kom, og passet perfekt. Endelig sitter vi tørt i båten på regnværsdager, og den midlertidige pressendingnen kan nå kastes. For en luksus!
Oslo er det stedet lengst nord vi besøker. Vi snur og starter turen sørover igjen. Et stop i Middagsbukta og et i Sandspollen før vi reiser innover Drammensfjorden. I Svelvik stopper vi noen dager og besøker kjentfolk. Drammenselva byr på neste 25 grader, det er perfekt bade temperatur for meg 🙂 Takk for invitasjonen, det var veldig koselig!
Vi er tilbake over fjorden og stopper innom Bile som er en fin utehavn, men passet ikke for snekka. Bølgene fra alle båter kom rett inn der, MYE bølger for vår del, når man skal ankre opp. Passer best for dagsturer og større båter.
English:
Oslo is our next stop. We stayed here for a couple of weeks. Aker Brygge guest harbor is my favorite of alle the harbors. The canopy that we ordered did arrive here. Now for the first time in this boat we are dry on rainy days 🙂 What a luxury 🙂
Oslo is the town were we turn and go back south. We now go to a nearby place called Middagsbukta and stay there for a night. Then back to Sandspollen before going into Drammensfjoren. In a small town Called Svelvik we stay and meet som friends. We stay at the beach, the water is nice and we went for a swim. Thanks for the invitation! After that we went ti Bile. The archipelago here was not made for out boat. The waves was way to high for comfort, so we left fast.
Helgen 17 juli holder vi til på Hankø. Vi får besøk av familie og koser oss der. Hankø var en nydelig havn før i tiden. De siste årene har det vært nedslitt og ikke den fineste. I år hadde de faktisk startet oppussing der, deler av bryggene var nye. Husker godt sist jeg var der, da var alt rottent og holdt på å falle sammen.
English:
The 17th of juli we are in Hankø. We stayed for the weekend and had some family com to visit on the boat. Hankø was the harbor for the royals many years ago. And had a great standard. In resent years the harbor has fallen apart. Rotten and not nice at all. This year they had started to rebuild the docks. I must say it looked a bit nicer this year.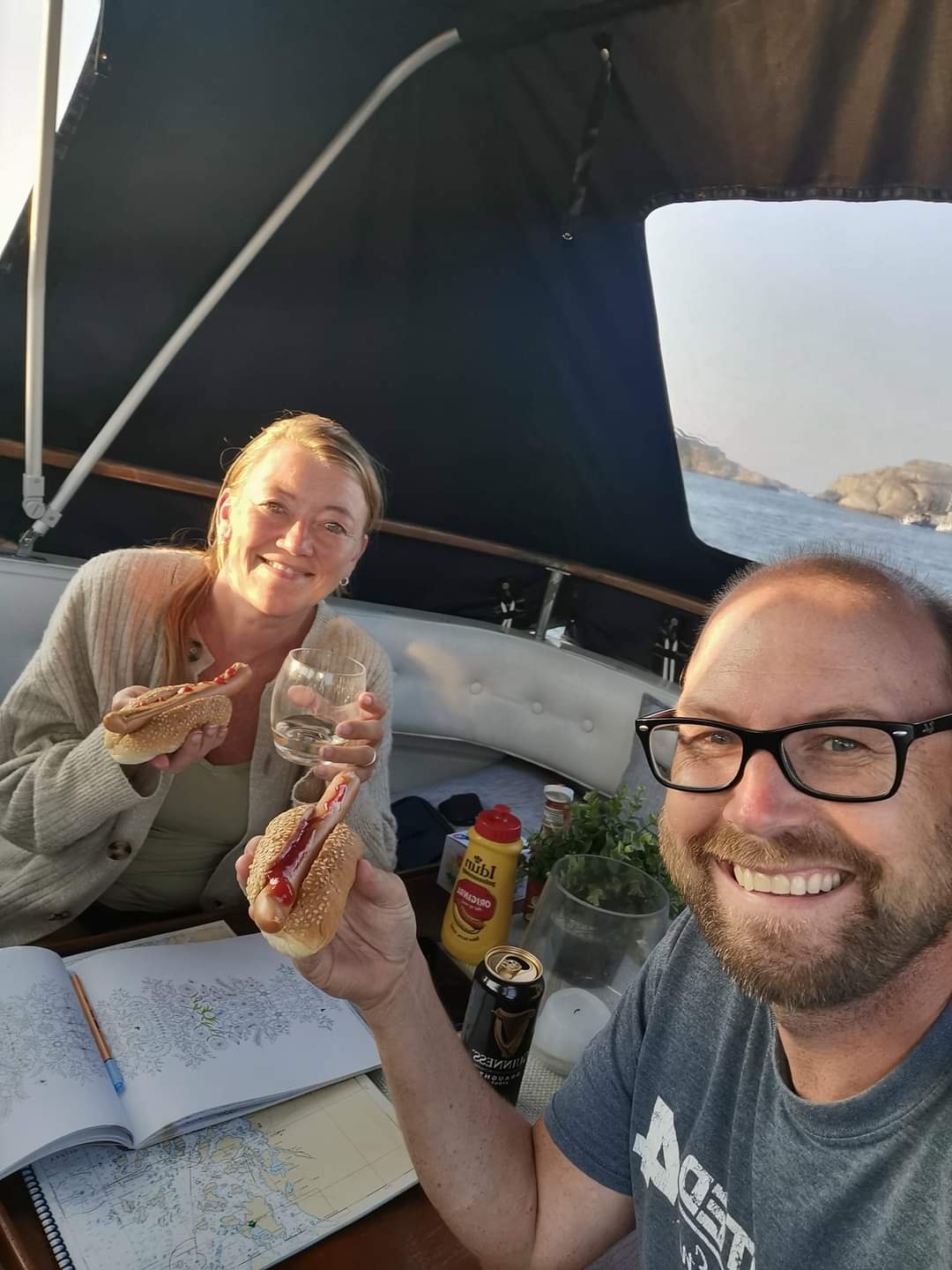 Vi har siste utehavn før Fredrikstad og det er Fredagshølet på Hvaler. Absolutt å anbefale, for der er det helt nydelig. Været var perfekt og en fin avslutning på Oslofjordens gjestebrygge og utehavner.
Så tilbake til start: Fredrikstad. Aller siste gjøremål må til her, vi pakker snekka og drar fra Norge.
Ha det godt Norge, vi sees snart igjen!
English:
We now take the last couple of days we spent in Fredagshølet, right south of Fredrikstad. We have had a nice summer in Oslofjorden this year. Heading back to Fredrikstad for som last cores before we leave.
By for now Norway, see you soon!
-Chatrine